Juan Rodriguez Cabrillo
Man of mystery and European discoverer of California.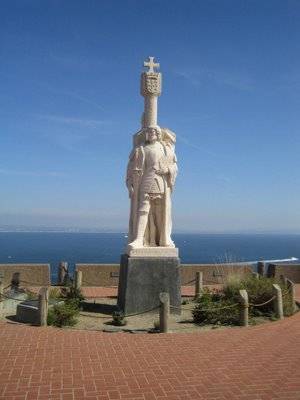 The man known to history as Juan Rodriguez Cabrillo (or Joao Rodrigues Cabrilho) was born in 1499 or 1500 in either Spain or Portugal.  He appears to have formally acquired the surname Cabrillo (or Cabrilho) late in life.  He arrived in Cuba as a young boy and traveled to Mexico in 1519 to participate as a foot soldier and crossbowman in the conquest of the Aztecs by Cortez.  After distinguishing himself in the conflict, Cabrillo joined a small expedition to subdue Guatemala.  He served as a Capitan and was rewarded with a large estate and soon became wealthy and influential.  Among other things, he built ships at his coastal estate, including some for a planned 1540 trans-Pacific expedition.  When that was cancelled due to the untimely death of its leader, Cabrillo was selected to lead a smaller expedition to explore the unknown west coast of North America.  At the time, only the Pacific coast from New Spain (Mexico) south past Peru had been charted.  On June 27, 1542, Cabrillo departed from Navidad (just north of Acapulco) with three vessels and about 150 men.  The flagship was the 200-ton galleon San Salvador.  It was accompanied by the 100-ton nao (cargo ship) Victoria and the 50-ton fragata (pinnace) San Miguel.  After sailing along the rugged coast of Baja California, the fleet entered San Diego Bay on September 28, which Cabrillo claimed for Spain and named San Miguel.  After repairing the vessels and replenishing their food and water supplies, the expedition continued north.  They explored the Channel Islands and eventually got as far north as Point Reyes, but totally missed San Francisco Bay.  Heading back to New Spain for the winter, the vessels stopped again in the Channel Islands.  There, Cabrillo suffered an unfortunate accident, fracturing either his leg or his arm (accounts vary).  Gangrene soon set in and Cabrillo died on January 3, 1543.  He was buried on one of the Channel Islands, but his remains have never been located.  When the vessels returned to New Spain on April 14, the official records of the expedition were turned over to the authorities.  Later, a local official prepared a summary of the voyage.  The official records were misplaced and lost to history.  All that remains is the unofficial summary.  In 1913, the federal government established the Cabrillo National Monument on Point Loma, near where Cabrillo first landed many years previously.  It bears a column and a statue dedicated to Cabrillo.  Since there are no known portraits of Cabrillo, the statue is only an educated guess of what he might have looked like.  Given his tendency to shun the limelight, he probably prefers it that way.