NSMV: the Built-for-Purpose Training Ship
Why the stars may finally be aligned. Why it is the right thing to do. And, why you should care.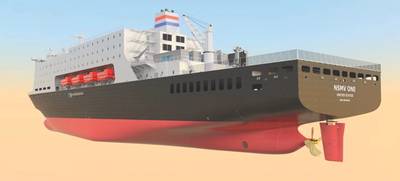 Anybody who has spent four years at a State Maritime Academy – and I suppose we now can add to that list (this month) about 60 Kings Pointers – has also spent time at sea on a Marad-owned training vessel. Typically, these platforms are long in the tooth, equipped with outdated equipment and not necessarily conducive to the task of training cadets for a future career at sea. For a long time, though, they've gotten the job done.

Then

In the late 1970's I spent two summers on the old T/S Bay State, a tired and grimy 40+ year old troop carrier. Anything but an ideal training platform, it served as home to +/- 500 cadets every summer, along with various support staff and faculty. A large percentage of the rising sophomore class (still considered freshmen until the cruise ended) lived in two converted cargo holds, sleeping on 1940's-era canvas racks stacked four or five high. Anything but luxurious on a typical day, you can only imagine the décor in those holds after a particularly raucous liberty in, for example, the port of Dublin, Ireland. But, let's leave that alone for now.
It wasn't unusual to find the vessel exhibiting some sort of mysterious list for hours on end at sea, or for the engine gang to lose the plant for no apparent reason at infrequent intervals. I'm told that today's versions are better maintained, appropriately equipped and a bit more comfortable. Certainly, the T/S Kennedy at Mass. Maritime looks a lot nicer. That said; I've also never been on board her to do a vetting. Reliable sources tell me the ship has perhaps another five good years left in her. I'm also told that Mass. Maritime will have to get in line behind SUNY when it comes to getting a new ship, because the New York schoolship is in (more) dire need of replacement.

Now

The practice of using dedicated training vessels to train future mariners is largely an American practice. For many reasons, that practice – despite international and domestic critics – isn't likely to go away, any time soon. Conventional wisdom has it that the current fleet on loan from Marad to the state maritime academies is collectively and rapidly approaching the end of its useful life. The bad news is that when this happens, there simply aren't any more suitable hulls left to replace them. That's got state maritime academy (SMA) officials worried. And, rightly so.
These training ships, because they are ultimately owned by Marad, also serve other functions. Most recently, they've been employed for myriad tasks during national emergencies and/or natural disasters – notably in the aftermath of hurricanes Sandy and Katrina. Leveraging that reality, the state maritime academy stakeholders are making the most logical (and, in truth, most viable) pitch ever, for a built-for-purpose class of training ship. In a perfect world, they're hoping for as many as five of these, which could ultimately come at a series-build price of $1.2 billion. This has been attempted before, with predictable results. This time, however, the stars may finally be aligned to get something done.

The Plan
In a nutshell, Marad and the SMA's are currently hanging their hats on an effort to get approximately $5 million in design appropriations and then, another $300 million for the construction of the first SMA training ship from Congress. Before that can happen, this coalition has to convince legislators that the heavy price tag will yield good value to federal taxpayers. In the interests of full disclosure, I haven't always been a fan of this concept, in part because I thought they were beating a dead horse. Beyond this, and having had it drummed into my head for the last four decades that cadet training on commercial merchant ships was the only way to go, the idea of a dedicated and built-for-purpose training platform seemed a little farfetched. Today, I'm not so sure. Here's why:
First of all, the vessels undeniably do provide value to the federal government. Despite the random nature of the hulls and equipment, the current 'fleet' has been used many times in the recent past, with good results. Hence, job one for training ship proponents is to ensure that, when built, these hulls provide the maximum bang for the buck. RADM Michael Alfultis, USMS, Ph.D., and President of the State University of New York's Maritime College told me this week that's exactly what the SMA stakeholders will propose. The new class of vessels – shown in the illustration posted with this entry (credit: Marad) and dubbed as National Security Multi-mission Vessels (NSMV) – could include (for example) helo pads, RO/RO capabilities, and the ability to produce potable water and power for shore use in case of emergencies and/or natural disasters.

Alfultis characterizes the current approach as 'programmatic,' one that recognizes that for all intents and purposes, the 'earmark' so familiar to anyone who walks the halls of Congress has all but gone away. Alfultis and SMA stakeholders know that the best hope to fund the effort is through an authorized program – through language within, perhaps, the National Defense Authorization Act. Unfortunately, the journey involves navigating through two committees in the House and another two in the Senate. What comes out of the conference process is anyone's guess.

The latest push also comes at a time when Marad and really, virtually every international or domestic industry trade organization and/or think tank is predicting dire shortages of mariners in the not too distant future. Hence, failure really isn't an option. When, the current ragtag fleet of training hulls wears out – and that day is coming very soon – there simply aren't enough cadet berths available on commercial hulls to accommodate all the license track students currently working their way through to a deck or engine license. That's a fact. Beyond this, Marad's aggressive push to winnow out the reserve fleets (READ: Ghost ships) and send this tonnage to scrap leaves no viable hulls available to replace the old vessels. When that happens, the ability to train future mariners in appropriate numbers will also have gone away.
You can be on either side of the discussion (to fund or not to fund a built-for-purpose training vessel), but you also can't deny the mariner shortage that's looming large in the proverbial porthole. Something has to be done. The concept of the NSMV is one such solution and to my mind, it has legs.

Another solution involves having more than one academy leverage one hull for training purposes. It has been done before, but in practice it greatly accelerates the wear and tear on these already aging vessels and when it is all said and done, this option merely moves the timeline forward as to when the real crisis will occur. This is a short term solution, at best. And, the notion that the current group of 6 mongrel hulls won't suffer a serious (READ: expensive) equipment casualty in the next five years is just silly. It's not a question of 'if;' it is a question of 'when.'
There is also a lot to be said for a standardized training platform, especially if congress approves the series-build option. Training and maintenance can be standardized across all the hulls, something that would create ultimately reduce costs and additionally allow the SMA's to develop a standardized, logical curriculum that's not necessarily possible today.
Real Value: for everyone
Quite simply, anyone looking for federal benefit to a so-called NSMV, or better yet, a series of these concept vessels, wouldn't have to look very far. In fact, I would advocate that the first at-sea training for any maritime academy cadet – state OR federal – take place on a built-for-purpose training vessel, staffed by qualified faculty. That leaves plenty of time for the sacred 'sea year' commercial experience – something, by the way, I think every cadet should alsoexperience before heading out into the real world. And, hey: with state and federal cadets leveraging both systems, there suddenly would be enough commercial berths for everyone.
The time for the NSMV is now. That's because if, as so many advocates insist, the Jones Act is a vital component of national security, then so too is the idea that training these officer candidates should also be a national priority. You simply can't claim to be a Jones Act proponent and then decide that that SMA training isn't an equally critical element of that equation. We can't do it without the hulls to accommodate all those who want to train, and we'll also fail if those hulls aren't equipped to provide the appropriate learning experience.
In the administration building of the Massachusetts Maritime Academy, there is a plaque that commemorates the words of the nation's first Maritime Administrator, Joseph P. Kennedy. First year MMA cadets are required to memorize it. It reads simply, "You can have a Merchant Marine with first class men even if they sail second class ships, but second class men can't be trusted with the finest ships afloat." Without a working plan to replace the current fleet of SMA training ships, we very soon won't have the men, women or the ships to make Joe Kennedy's thesis matter. The NSMV plan is a good one, benefits all stakeholders and promises to measurably improve maritime training in this country. What's not to like? – MarPro.
***
Joseph Keefe is the lead commentator of MaritimeProfessional.com and a graduate of the Massachusetts Maritime Academy. Additionally, he is Editor of both Maritime Professional and MarineNews print magazines. He can be reached at [email protected] or at [email protected] MaritimeProfessional.com is the largest business networking site devoted to the marine industry. Each day thousands of industry professionals around the world log on to network, connect, and communicate.