WHAT'S IT ALL ABOUT, WARREN?
NOTHING IS CERTAIN BUT TAXES AND A NORDHAVN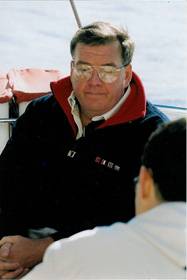 It's been an ironic couple of weeks for superyachts and frankly, I don't quite know what to make of it all. 
First Warren Buffett bought BNSF
www.

bnsf

.com
, then Nordhavn
www.nordhavn.com
finally sold it's first 120 foot long, er, "trawler" joining the ranks of superyacht builders and over top of all of this, it seems that
superyachts and small boats are clearly going different ways
in terms of prices, production and employment.
But BNSF is railroad, says you, and you're right of course. You see, unlike venture capitalists, Buffett takes a long view seeing strategic opportunities invisible to most. But a railroad that ships coal? Before you laugh, just remember, Buffett passed on the dot com bubble. (Yes, I realise this blog is about superyachts; so first I admit that I like trains but, as Buffett knows, carloadings are a good measure of the state of the US economy.)
Again until now, not in the superyacht league, the Nordhavn brand is solid, seaworthy, truly ocean-going craft which are seldom pleasing to the eye on the outside, mini-superyachts on the inside, that don't go very fast but ALWAYS get there. I know. In 2004 I happily crossed the Atlantic in a Nordhavn 57, GOLEEN, at about 8 knots SOG ("Speed Over the Ground") in the Nordhavn Atlantic Rally
www.nordhavn.com/rally/voyage/welcome.htm
.   
Nordhavn's customers tend to be retirees, many of whom could own superyachts but would rather drive a mini-super yacht themselves instead. Some are sailors for whom headsail changes in 50 knots at 0300 went away with their waistline.
So there's a certain evangelical inevitability in Nordhavn's marketing as their website hints, not all that subtly actually:
"Obviously, only you can decide when to take the plunge and become a new Nordhavn owner. But as the years slip by, you become more and more aware that one thing is always certain (the other is taxes), which might make you ask: is now the right time to purchase a new Nordhavn?"
So are Norhavn's good fortunes and focus upward over 100 feet to superyachts like the undertaker during the plague?
Why? Because it's been another month of bad news for the superyacht industry in general as more brokers advertise lower prices as owners keep trying to sell their yachtss - remember, annually it costs 10 to 20 percent of the yacht's value to "keep the lights on." Which raises the interesting question of whether operating costs decline in absolute terms with the declining sale prices. Probably not.
And in the face of that, at long last
Superyachts.com
www.superyachts.com
(big surprise on that URL?) finally went live, which may not be such good news for some of the industry's print media
who haven't been having much good news on the ad revenue
front of late.
In contrast, the news from small boat builders is almost exactly the opposite as US builders MasterCraft Boats, Correct Craft and Tige Boats, interestingly competitors in ski-boats, Brunswick's Meridian Yachts and Regal Boats, a US builder of 18 to 45 feet, all report re-hiring and/or ramp-up of production.
Regal's chief operating officer Tim Kuck was quoted in THE ORLANDO BUSINESS JOURNAL, "Around Labour Day (7 September 2009), there was a tide change. Our dealers started placing orders again."
So small boats up – superyachts down.
Of course, it's not the first time the performances of the two very different industries have diverged. 
Remember, the small boat sector had been on its knees for a long time when the superyacht industry finally stumbled in October 2009. And now small boats may be coming out of it.
Hmmm, wonder what the Oracle of Omaha makes of that.
-end-