West Coast port worries - Part Two
Oakland is engaged in its own soul searching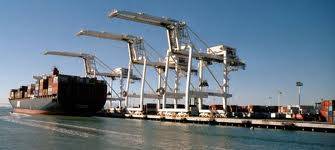 The resignation of the two most senior officials at Oakland might appear the worst of the port's problems. But in fact there's been a worse development that, ironically, one of the former officials was instrumental in staving off for a while.
The port has offered the following concessions to 400 members of the Service Employees International Union and three others: a 5 percent raise over the next two years, add another 8 percent to cover a new rule directing workers to start contributing to their pension fund, extremely generous health care for life for those with more than five years' service, a $3,500 bonus for the 16 months the workers had no contract. (As of writing, the union has rejected the offer and has shut down the port.)
The cost? Several million (the port has still to release its assessment), compared with less than $100,000 that the two former officials wasted. One news publication says that more than $250 million in previous pension and health care expenses for retired workers has still to be funded.
Added to its woes is the lawsuit alleging that the lease agreement with Ports America – the lynchpin of the strategic plan for at least the next 10 years -- is discriminatory because the same terms have not been offered to other terminal operators and their profits are suffering.
Traffic is also stagnating. In November box volumes were down 4.5 percent over the previous year– the six month of falls of at least 1 percent – while traffic for the year  so far is slightly down on 2011.
Meanwhile, Oakland is calling for design-build proposals for the Outer Harbor Intermodal Terminal rail yard, which is expected to cost $55 million to build. Which is great, but the whole project will be a bit of a worry for developers if the Ports America controversy looks like garnering serious judicial merit.
Another project that will help logistics in San Francisco Bay ports generally is being pushed further behind because of Oakland's problems. This is the barge shipping scheme with Stockton and Sacramento that could shorten delivery times and reduce pollution. Oakland has still to sort out labor contracts and its own logistics issues, but is now embroiled in its own difficulties.