Water bridges
Artificial constructs allowing one waterway to flow above another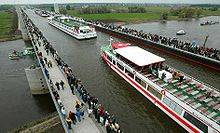 Water bridges, also called navigable aqueducts, were first developed by the Romans, but didn't come into use again until 1690.
That year, the Canal du Midi opened.
The 150-mile long Canal connected the Garonne River (which flows into the Atlantic) with the Etang du Thau (which flows into the Mediterranean).
The Canal includes a number of short aqueducts crossing various waterways.
The aqueducts were originally constructed of stone and brick, but had continual trouble with leakage.
In 1796, the first large cast iron water bridge was built at London-on-Tern as part of the Shrewsbury Canal.
Its length of 185 feet is supported by three intermediate piers.
Ten years later, the Pontcysyllte Aqueduct (with an overall length of almost a thousand feet) was built to carry the Llangollen Canal over the River Dee valley in Wales.
This canal includes a second water bridge crossing a neighboring valley and a tunnel through the hill separating the two valleys.
The Barton Swing Aqueduct near Manchester, England carries the Bridgewater Canal over the lower Manchester Ship Canal.
It is unique in that it consists of a swing bridge that rotates the aqueduct 90 degrees to allow vessels to transit the Ship Canal below.
The Briare aqueduct was constructed in 1896 to carry the Canal lateral á la Loire across the Loire River in France.
The canal was used primarily to carry agricultural products from the Loire valley to Paris.
At 215 feet in length, it remained the longest water bridge in the world until 2003, when the Magdeburg Water Bridge opened in Germany.
The Magdeburg Water Bridge, which connects the Mittellandkanal with the Elbe-Havel canal by crossing the Elbe River, is 3,250 feet in length.
Planning for this water bridge began in 1919, but work was not commenced until 1938.
Construction was halted, first by World War II and then by the bifurcation of Germany.
Work recommenced in 1997 and lasted six years.
The Magdeburg Water Bridge has a width of 110 feet and a water depth of 13.8 feet.
It connects Berlin's inland harbor network with the Rhine.