Texas-American Pride: Corpus Christi Dredging is Huge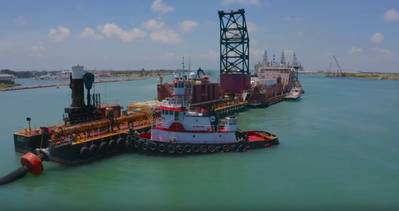 Texas American pride is driving improvements in Corpus Christi channel deepening in Port Aransas, Texas. The Cutter Suction Dredge (CSD) Carolina is on the job.
Captain Scott Baumann is the skipper of the CSD Carolina. Captain Baumann explained, "With this particular dredge (CSD Carolina) we can dredge sand and clay, mud – we can get rocks and pump the sediment through a series of pipelines all the way out to the disposal area."
"24-7-365 days, no holidays — we're dredging. I am very excited as the Project manager. This is a dream come true to be able to be a part of this whole project that is making history here in Texas and in the U.S.," said Project Manager Rick Elizondo of Great Lakes Dredge and Dock Company. Rick grew up in Los Fresnos, Texas.
The Port of Corpus Christi is the number one exporter of U.S. crude oil in the nation moving nearly 500,000 barrels of crude each day. The port also transfers the import and export of liquefied natural gas, wind turbine equipment, military cargo, and grain sorghum.
The first phase, contract one, will extend the Corpus Christi entrance to the ship channel 2.2 miles into the Gulf of Mexico while deepening the channel to 56 feet from Harbor Island Port Aransas to the Gulf. Once completed, the ship channel will be able to support two-way traffic of supertankers capable of carrying up to 2 million barrels of crude oil and refined products per ship.
"This project has been in 30 years in the making. Great Lakes Dredge & Dock has been awarded the first of four contracts. Great Lakes Dredge & Dock has been in existence for over 100 years," said Sean Strawbridge, CEO of the Port of Corpus Christi. He continued, "A cutter head suction dredge is like a big vacuum cleaner. And the material is sent through 5 miles of hose to a predetermined dredge material placement site off shore."
"These are good jobs. American jobs. Local jobs. The dredging industry in the United States is hard at work, deepening, widening, and maintaining our ports. Corpus Christi is on schedule and the workers love what they are doing. Full Speed Ahead!" commented William P. Doyle, CEO & Executive Director of the Dredging Contractors of America."