St. Lawrence Seaway
The gateway between the Great Lakes of North America and the world's seaports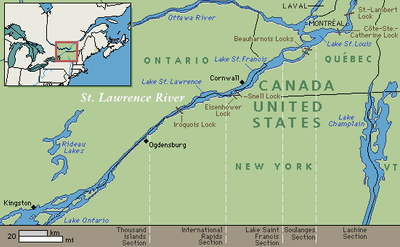 The St. Lawrence Seaway is a system of locks, canals, and channels providing a connection for ocean-going ships between the St. Lawrence River and Lake Ontario.
Small vessels had historically traveled this route, although portage was often required around rapids, particularly at the Long Sault rapids.
A small canal system was built in 1862, allowing transit of vessels up to 186 feet long, 44 feet wide, and with a draft of up to nine feet.
Proposals for a waterway that could accommodate ocean-going ships were made as early as 1909, but met opposition from railway interests as well as from those involved with the Erie Canal.
Eventually, the Canadian and US Governments reached agreement in 1954, with the Canadian Government bearing most of the cost.
Seven locks were constructed: St. Lambert, Côte Ste. Catherine, Lower Beauharnois, Upper Beauharnois, Snell, Eisenhower, and Iroquois, with all but two operated by the St. Lawrence Seaway Management Corporation of Canada.
The Snell and Eisenhower locks are operated by the Saint Lawrence Seaway Development Corporation of the United States.
The Seaway also supports several hydroelectric power generating facilities.
The Seaway was formally opened to navigation by Queen Elizabeth II and President Dwight Eisenhower on April 25, 1959.
The locks on the Seaway are 766 feet long, 80 feet wide, and 30 feet deep.
The major use of the Seaway currently is transportation of bulk cargoes, particularly grain.
An initiative is underway to facilitate increased use of the Seaway for transportation of containerized cargo.
The Seaway has been blamed for providing a vector for introduction of aquatic nuisance species into the Great Lakes.
While the sea lamprey entered the Great Lakes long before the Seaway was built, the zebra mussels and several other species certainly rode in on ships transiting the Seaway.
In recent years, the world's most stringent ballast water management program has effectively stopped other nonindigenous species from utilizing this particular vector.
In 2009, almost 2.4 million tons of cargo were transported through the Seaway.
The Seaway is closed during the winter, from about December 29 until March 25.