Seattle takes up the thorny issue of independent truckers
Industry sees this as detrimental to operations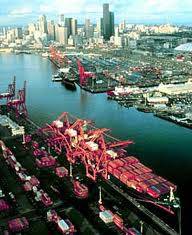 Strikes and threats in the Pacific North West have shaken the smooth workings of the ports, and what seems like a compromise to the trucking dispute could mean a hefty rise in costs for shippers and customers at Seattle.
A proposed state law, officially known as House Bill 2395, seeks to "define drayage drivers who are currently independent contractors as statutory employees if they haul loads that pass through the Port of Seattle." The truckers would come under state laws regarding safety, hours of work and the like. The bill does not specifically ban owner-operators (independent contractors) from the port, but its implication is clear.
And, if passed, it could mean that a couple of far-reaching associated regulations will come trundling in as well.  The most significant of these is: "a driver refusing a load for legitimate safety reasons, including containers that are overweight, must be paid the haul rate the driver would have received for hauling the load.  Once paid, the driver must take his or her place at the head of the haul assignment queue and be assigned the next chassis and cargo container." 
The force behind this is the Teamsters, who have been using their clout in Washington state a great deal (and who are also a significant force in an innocuous-sounding community lobby, SAGE, in the Seattle area.)
Shippers, shipping lines and terminal operators are understandably perturbed at this.
According to the Pacific Merchant Shipping Association such provisions "will result in congestion, emissions, costs and liability. …Creation of a new system of inspection zones in addition to existing terminal pre-trip inspection areas would be redundant while adding delay and cost. Requiring drivers to be paid for trips they don't make opens the door for abuse and additional cost. Implementing a state requirement mandating drivers to transport cargo for cargo owners they don't have a contractual or business relationship with is unprecedented and borders on the bizarre and surreal."
At the heart of the general unease about the measures is the involvement, as always of the Teamsters. Their reputation precedes them wherever they are and a hidden agenda always seems to be part of their campaign.
Some improvement is needed in working conditions for drivers, but this is seen as counter-productive.
Remember too that Los Angeles tried to knock out owner-operators, but this was then knocked out by the courts