Other experimental ironclads
While the USS Monitor was a success, the same cannot be said for the others.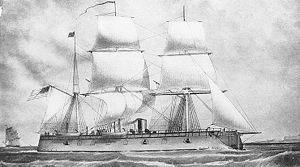 When the Union Navy learned that the Confederate Navy was building an iron-clad warship to threaten the wooden-hulled blockade fleet, it launched a crash project to build its own iron-clad warships.  Of the 17 proposals submitted, the Union Navy selected three for construction.  Most people are familiar with the USS Monitor, the most successful of the three.  Few, though, are aware of the other two iron-clads built at the same time for the Union Navy.  The USS GALENA was constructed in a manner similar to wooden hull screw-propelled warships of the era, except that armor plating was affixed to its sides using interlocking iron rails.  At the Battle of Drewry's Bluff on the James River on May 15, 1862, Confederate gunfire perforated the ship's armored sides, killing 12 men and wounding 15 others.  Not long thereafter, the GALENA was ordered back to Philadelphia, where its iron plating was removed.  It served the remainder of its career as a wooden-hull warship and was decommissioned in 1869.  The USS NEW IRONSIDES was built along the lines of the French warship Le Gloire, with thick wrought iron plates extending from four feet below the waterline to the main deck and thinner wrought iron plates used on the main deck.  The NEW IRONSIDES served honorably during the Civil War, performing blockade services and gunfire support.  Decommissioned when the conflict ended, the ship suffered a major fire while in lay-up and sank.  Few new warships were constructed for the United States Navy for some years after 1865.  When construction started again, iron-clad ships were outmoded.  Rather, the new ships were of all-metal construction, more along the lines of the HMS Warrior, rather than the iron-clad wooden hulls similar to the Le Gloire.