Long Beach stands toe-to-toe with its bigger neighbor
The contest to be top dog is on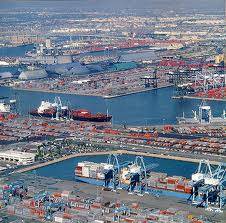 A dramatic shift in financial bulk is taking place at the two main Southern Californian ports over the next 18 months. For the first time, Long Beach will be looking its neighbor, Los Angeles, in the eye.
The two ports are standing virtually as tall as each other with their budgets --$954 million for LA vs. $942 million for Long Beach --- but it's the capital spending that is really startling. Long Beach is shelling out $720 million while LA is only spending $340 million.
Now, before the bean counters and professional accountants weigh in with caveats and lessons in sleight of hand, it must be made clear that the figures are probably not fully comparable. Replacing the main entry point to the port, the Gerald Desmond Bridge ($190 million in the first year of construction) is one reason, but even taking that out leaves a 30 percent bigger capital budget than LA.  A solidly comparable figure is the money specifically going on terminal development – only $132 million for LA vs. $312 million for Long Beach – a massive difference.
Much of this is to do with the OOCL project, with the shipping line paying $4.6 billion for a 40-year lease. The port is spending $1.2 billion over 10 years to build the terminal, while total capital spending during that decade will be $4.4 billion.
Another big financial difference with its neighbor is that Long Beach is pushing out the boat on borrowings -- $200 million. Debt at the moment stands at about $650 million, but the governing board reckons debt service is very healthy.
Executives talk ambitiously of growth and stability in the future. But they are putting their reputations on the line. Total container throughput in 2011 was about 6 million, compared with 8 million for the bigger neighbor – a 25 percent difference.
The aim is clear. Long Beach wants to narrow this gap and perhaps even reverse it. The port leadership is putting its reputation on the line and if plans go awry, the credit ratings could be slipping down the alphabet.
LA is being more wary of the future. "Our goals are to sharpen our competitive edge, build on strong relationships with our employees and partners, and fine-tune our financial practices to maintain the Port's position in a dynamic global economy," according to executive director Geraldine Knatz.
When you're on top you can afford to take it easy.