Lift and Shift transports 20 modules of up to 4,500 ton for offshore quarters
Offshore living quarters for ONGC moved to the offshore oil field at Bombay High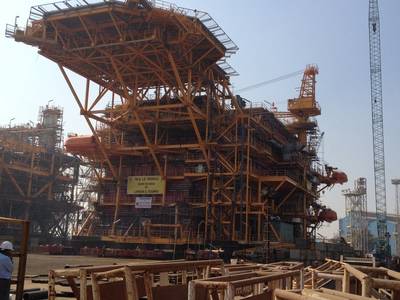 Lift and Shift India Pvt Ltd, India's first heavy lift and project cargo forwarder has just completed transportation of the final module of the offshore
living quarters weighing
4,500 tons
. Designed to house 275 people, these living quarters will accommodate the workers of the Oil and Natural Gas Corporation operating at Bombay High, the offshore oilfield 160 kilometers (99 mi) off the coast of Mumbai. The entire 20-module offshore quarters were fabricated by Larsen & Tourbo at Hazira, in Gujarat on the West coast of India and loaded at Hazira and transported by barge to Bombay High by Lift and Shift
On being awarded the contract to rebuild Mumbai High North offshore platform.by Larsen & Toubro (L&T) in 2008, Lift and Shift, an Apurva Natvar Parikh Group, based on the study of engineering drawings and requirements ordered the requisite ballast pumps and new axles, including 204 axles required for transporting the largest module. Arrangements were made that these would be made available by early 2011.
"Over the past 2 years we executed the transport and 'load out' operations of the 20 modules comprising of deck, building modules, bridges, jackets, tripod, process and technical platforms," stated Sanjay Valia, Executive Director of Lift and Shift. "Handling and transporting each module posed inherent challenges owing to their size as they were some of the biggest, heaviest and longest jobs ever fabricated in India.
"We started planning to handle and transport this project two years ago in 2009, and executed the final equipment weighing 4,500 tons last week. It had to be moved on 204 axles using 1632 tyres and had to be shifted on to a barge."
Five of the largest modules of 3300 to 4500 tons in weight had to be transported in January this year from the fabrication yard to the jetty and loaded on to barges taking advantage of the rising tide. The greatest challenge was the loading operation of some modules that had to be executed during night hours thus requiring more safety check as a result of the tidal restriction in the Hazira channel. The 'load outs' were executed both along the length and breadth of the barge at the L&T jetties.
Each barge selected was studied, meticulously planned and prepared for 'load outs' following the stringiest of norms, safety and precision. The entire 'load outs' were executed over a period of 75 days and the total weight of all structures amounted to 40,000 tons comprising of 20 modules.