Kamsarmax
A variant of the Panamax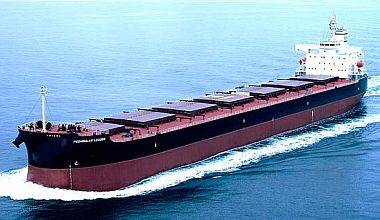 Bulk carriers almost all unique and come in a wide variety of lengths, drafts, breadths, and capacities.
For commercial purposes, most bulk carriers are grouped into four major categories: Handysize, Handymax, Panamax, and Capesize.
Handysize and Handymax ships are numerous and general purpose.
Panamax ships are generally between 60,000 and 80,000 deadweight tons and are built to just barely fit through the current locks of the Panama Canal.
Capesize ships are any bulk carriers too large to be accommodated by the current locks of the Panama Canal.
Within the Panamax category is a specialized variant – the Kamsarmax.
The Kamsarmax bulk carrier is designed to both barely fit through the Panama Canal and to barely be accommodated at the loading pier at Port Kamsar in the West African nation of Guinea.
Guinea has one of the world's largest deposits of bauxite.
The bauxite is shipped via railway to Port Kamsar, from where it is carried around the world, primarily to China and India, for production of aluminum.
The sole loading pier at Port Kamsar cannot handle a ship with a length greater than 229 meters.
Thus, a Kamsarmax is a Panamax bulk carrier with a length of 229 meters, which is several meters longer than the average Panamax.
Assuming that the vessel operates in a fully loaded condition, this gives the Kamsarmax an economic advantage over a smaller Panamax.
While most Kamsarmax bulk carriers are exclusively or primarily devoted to the bauxite trade, there are some Kamsarmax vessels that never carry bauxite.
Instead, they primarily carry agricultural products such as grain and soybeans.
Most Kamsarmax vessels, though, carry a wide variety of cargoes during their careers, including bauxite, coal, cement, iron ore, steel pellets, grain, soybeans, and fertilizers.