How the old polar ship MAUD is floated
An old story but very successful application of using marine salvage airbags to re float sunken ship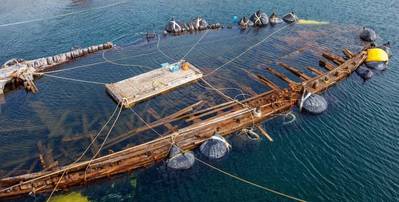 The Maud, a Norwegian ice-faring ship built for the explorer Roald Amundsen, had been sitting in shallow water off the coast of northern Canada since 1930。
A professional cultural heritage inspection of the wreck was carried out in 1995 and 1996, led by the internationally-acknowledged marine archaeologist James P. Delgado.
He confirmed that the wreck has international significance as cultural heritage and that it is an archaeological locality of special interest to both Norway and Canada.
POLAR SHIP MAUD
Built by Christian Jensen, Vollen, Asker, Norway
Length O.A. :120 foot – 36.5 m
Beam O.A.: 40 foot – 12,3 m
Depth: 16 foot – 4,85 m
Motor power: 250 HP Bolinder
Total Sail Area: 600 sqm
Launched: 7th June 1917
A Norwegian team, Maud Returns Home team, lifted the heavy oak ship out of water with the help of Evergreen salvage air bags in summer of 2016 years.
The team faced challenge of installing airbags horisontally along the loop of heavy rope attached around the Maud at the beginning.
When they changed the method, folded airbags in half and let the two ends open underneath, used airbags for vertical lifting the installation job came to be easier.
By inflating Evergreen salvage airbags, the port side of Maud slowly coming up towards the surface.
By adding more lifting airbags to the front part of Maud, finally the keel is free from the seabed.