GlobalMET Charts a new course at India chapter
Various IMO conventions which have been amended were focused on at the GlobalMET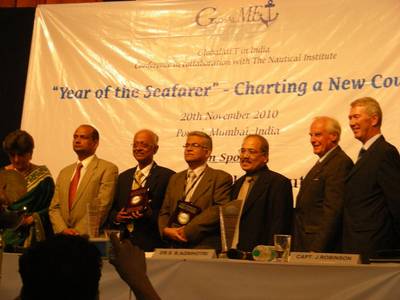 With focus on charting a new course the Global Maritime Education & Training Association (GlobalMET), which boasts of 106 members based in 35 economies, held its annual conference in Mumbai on 20 November 2010. Held jointly with the Nautical Institute the conference highlighted the new conventions set to come into force especially with regards to the Bill of Rights for Seafarers, Maritime Resource Management and the International Convention on Standards of Training, Certification and Watchkeeping for Seafarers (STCW).
In his keynote address Capt Rod Short, Executive Secretary announced that GlobalMET has been granted the NGO consultancy status by the International Maritime Organization Council thus giving it a boost to its efforts to bring in quality to maritime training and education.
Referring to the new changes in the pattern of work for sailors following the amendments to the various conventions Capt Short said, "Today leadership and group work is an important factor in seafaring. Lots of changes have been made in the STCW. There was lot of pressure from some countries to drop the training on the outdated celestial navigation. In the new system a lot more focus is on assessment of competence and all training will have to comply with a five year transition period when the convention comes into force in 1/1/2012." He also informed that the big issue is the rest period of seafarers and this has been enhanced to 10 hours with a maximum of two period one being of six hours.  
The guest of honor Dr Sujata Naik Vice Chairperson of Tolani Shipping Company averred the need to triple training capacity to overcome the shortage of seafarers. "It is time we try and attract more girls graduating out of junior colleges to get into this profession," she said. "Difficulty in attracting teachers was a big challenge for training institutes. Another challenge is to ensure what is being taught to the students is actually learnt."
The Chief Guest, Dr S. B. Agnihotri, Director General of Shipping, Government of India pointed out that there was a wrong notion among ship manning companies that Indian officers and Filipino ratings made the best combination on board the ship. "If you go into the McKenzie Report you will find many really revealing facts," he said. "We need to preposition ourselves for the new STCW so that we do not wake up in January 2012 and find ourselves wanting. He also desired all training modules to incorporate all possible 'dos' and 'don'ts' so that at no point of time a cadet or seafarer needs to turn around and say this was not told to us."
The President of the Nautical Institute, Capt James Robinson observed that a number of key regulatory measures being implemented during the five year period would inevitably impinge on the seafarers' lives. "The management of these changes and the need for effective training should be uppermost in shipowners' and managers' minds," he said.
Speaking on "Maritime Resource Management" (MRM), Martin Hernqvist, Managing Director of the Swedish Club Academy underscored the fact that "human error" is the dominating factor. The errors are often related to lack of teamwork and communication, improper attitudes and unsafe company cultures, Stress, fatigue, complacency and failure to utilize available resources are other typical factors.
"MRM strives to develop people for safer shipping," he stated. "In the early years countries were not willing to accept MRM training. India took the lead starting with Anglo Eastern Training Center followed by other institutes. After that other parts of the world followed. We need to train people so that their attitudes are in line with desired behavior (best practices), ensuring an efficient teamwork and communication leading to the establishment of situation awareness and that people are assertive enough to "challenge" when a deviation from the plan is made."
A deep insight into the "Maritime Labor Convention – Bill of Rights for Seafarers" was provided by Capt J. S. Loney of Torm Shipping. This was followed by a detailed explanation about the new amendments to the STCW undertaken by Capt M. C. Yadav, Director of FOSMA. Advantages of "e –Teaching" and "ECDIS – The challenges of going paperless" were explained by Atul Nigam, CEO of Dynamind and Capt S. Sule, of Anglo Eastern Training Center respectively.