Georg Wilhelm Steller
German naturalist who documented numerous Arctic animals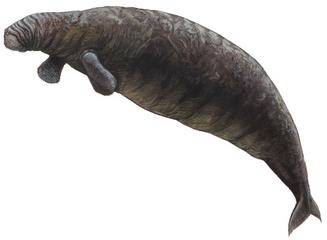 Georg Wilhelm Steller (1709-1746) was a naturalist and zoologist, noted for being the first European to set foot in what is now Alaska and for describing and documenting some of the unique animal life of the region.
He was born in Windsheim, Bavaria and studied at the University of Wittenberg.
In 1734, he moved to St. Petersburg, Russia, where he worked with the naturalist Daniel Messerschmidt at the Imperial Academy of Sciences.
It was there that he learned of the Kamchatka Expedition of Vitus Bering and obtained permission to join.
Steller arrived in Kamchatka in 1740.
The expedition, consisting of the small ships St. Peter and St. Paul, departed Kamchatka in the spring of 1741, headed east.
A storm separated the two ships, but the St. Paul, with Bering and Steller (the expedition's naturalist) on board, continued alone.
After sailing south of and missing the Aleutian chain, the ship finally arrived at what is now known as Kayak Island (located east of Prince William Sound) on July 20, 1741.
Bering wanted to only stop briefly for fresh water, but Steller insisted on going ashore to gather and document the plants and animals.
On Kayak Island, he discovered the bird now called Steller's jay.
Shortly thereafter, as disease started to take its toll among the crew, the ship headed back toward Kamchatka.
It grounded and was heavily damaged on what is now called Bering Island in the Komandorski Group.
The crew wintered over on the island.
It was there that Steller documented a number of animals, including the Steller's sea lion, Steller's eider, and Steller's sea eagle.
Two of his discoveries, the Steller's sea cow and the spectacled cormorant, are now extinct.
The Steller's sea cow was a large (about thirty feet long) marine mammal, a relative of the dugong and the manatee.
Like its cousins, it was slow and docile.
Sealing its doom, its flesh was also tasty.
Within 25 years of its discovery by Steller, his sea cow had been hunted into extinction.
Steller made it back to Kamchatka in 1742, but died while returning to St. Petersburg.
Fortunately, he kept a meticulous journal, which arrived safely back at the Imperial Academy, documenting his many discoveries.