Fiber Optics Solutions for Sub-Salt Deep water Subsea Systems
Fiber Optics are fundamental in deep water production efficiency, as highlighted by the recent technological partnership between Technip and Schlumberger, targeting the sub-salt deep.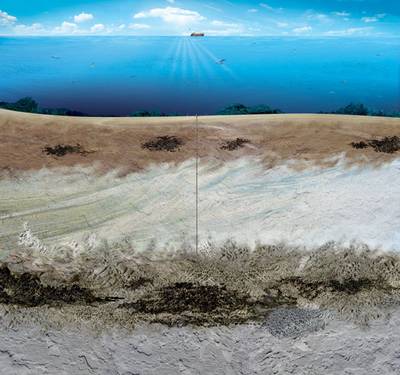 Fiber optics continues to provide a flexible enabling technology for many areas of future subsea oilfield development. The increasing demand on new sources of O&G, with most shallow water fields being mature, has driven the O&G industry into deep water and ultradeep water fields.
This has brought operators to look for alternatives in E&P cost control, field performance efficiency and new reservoirs. The fact of exploring down to 3,000m below sea level and the need to have many wells linked to one riser system increases the complexity of subsea systems.
Subsea service providers are coming up with some very interesting solutions, not only to simplify the systems but also to reduce operational and maintenance costs, resulting in a need for more automated, and real-time control and surveillance systems.
The resulting growth in control systems functionality is pushing the need for increased communication bandwidth, and the need for more flexible and fault tolerant communication systems using Bus architectures.
The search for improved profitability margins is also driving the development of new and improved subsea down-hole sensors and sensor arrays.
Optical fiber, a proven technology is providing the O&G industry with gigabit communication bandwidths that can support 200 km distances.
The fabrication and installation costs of umbilicals can be significantly reduced when using optical fiber. The switch to fiber optics also leads to a large reduction in umbilical cross section.  Robust, network compatible passive optical sensors, for any conceivable measurement, are also becoming available, packaged for subsea and down-hole environments.
Subsea fiber optic systems are normally used to provide communication, where high levels of electrical noise prevent the use of copper-based communication. Fiber optics is also used for direct access to optical sensors both subsea and down-hole, and for communication with sensor systems providing either continuous real-time data, or information at data rates higher than can be supported by existing electrical communication.
Technip and Schlumberger sign global cooperation agreement
Technip and Schlumberger announced recently the signing of a global cooperation agreement to jointly develop subsea integrity and surveillance solutions for Technip´s range of flexible pipes used in deep offshore O&G  production. The new agreement extends the collaboration between the companies that began in 1998.
The agreement is initially focused on surveillance systems activities for new and challenging flexible pipe applications such as those required in the deepwater sub-salt environment in Brazil. Several key Schlumberger technologies used in subsurface applications have been identified for integration into Technip's new Ultra Deepwater flexible pipe designs.
The "measurement-enabled" flexible pipe will provide significant value to the industry in safety, reliability, and performance. This new combination enhances Technip's already extensive portfolio of flexible pipe products, which represent key components for the development of ultra deepwater fields."
One of the initial integrity solutions that the partners expect to develop and qualify is focused on the use of optical fibres to monitor a variety of parameters characterising pipe behaviour. Andy Hendricks, Vice President, Subsea, Schlumberger, explained: "The extremely robust nature of fibre-optic sensors in deepwater environments, combined with the possibility of using a single interrogation unit for a whole production system, makes this solution both technically and commercially superior." The new technology combination extends Schlumberger subsea products and services, which already include other surveillance technologies, production flow assurance engineering, and a light-vessel well intervention project.
This fiber optic sensor technology, which enables the use of a single interrogation unit for a whole deepwater production system, combined with rigless intervention technology and "measurement-enabled" flexible pipe technology, appear to combine key ingredients to make deep water and ultradeep water production commercialy viable and maintain healthy profit margins.
There are still many  deep water reservoirs to tap in all three main Brazilian Basins; Campos, Santos and Espirito Santo. Depending on how the price of oil varies, these new subsea technologies may become fundamental in maintaining the level of interest and investment in the Brazilian deepwater O&G market.
OGX confirms discovery of more oil in the Campo Basin shallows
Hydro-carbons  were found in a shallow water well, in BM-C-41block, located at the south side of the Campos Basin. The Discovery, announced yesterday by OGX, lies next to another OGX block (BM-C-43), which the company announced in October to contain 1,5 billion barrels. The discovery is located in the Albian section of well OGX-2A, comprising high quality hydro-carbons with an oil column of approximately 250 meters, containing over 100 meters of net pay. OGX has 22 offshore blocks and is studiing the possibility of also aquiring some blocks in the pre-salt, although their explorations in shallow wells are doing fine.
 
Claudio Paschoa