Economic Analysis of Offshore Marine Industry Could Sway Policymakers
$18 Billion in annual spending could pique interest of lawmakers.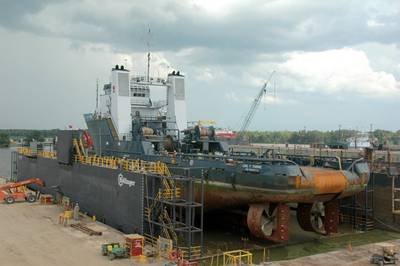 From the halls of Congress to the county courthouse, lawmakers and government bureaucrats alike love numbers. They use them in graphs and display them on poster boards so all can see the benefits of the latest program or industry up for debate at any particular time.
Residents along the Gulf Coast have known for generations the economic benefits of the energy service industry. Just about everyone knows a handful of people gainfully employed in the maritime sector or by a shipyard.
But when it comes to piquing the attention of lawmakers to favorably view a certain industry – concrete figures speak the loudest.
For the first time in the industry's history, the marine service sector has the numbers to back up its claims. Loren C. Scott & Associates completed the first-known study that looks at the economic impact of the United States' Joes Act fleet – offshore vessels built in the U.S., owned by Americans and crewed by Americans.
And the numbers are eye popping.
The study determined the industry is responsible for $18 billion in annual spending and more than 100,000 jobs paying $4.6 billion in wages. More importantly to those on Capitol Hill, the industry produces $1.4 billion in federal tax collections annually and $770.8 million in state and local government taxes.
The study further illustrates benefits are not limited to vessel and shipyard companies, but are wide-ranging and involve hundreds of large and small firms throughout the nation that supply everything from steel to the groceries that crews eat onboard a vessel.
"This study confirms our belief that offshore energy activity, whether it's oil, gas, wind or hydro-power, has critically important national benefits, not only for our coastal areas but for the entire U.S. economy," said Otto Candies, III, chairman of Otto Candies LLC of the study commissioned by the Offshore Marine Service Association, which represents the domestic workboat industry.
Candies said the industry hopes the study will be a valuable tool for states considering expanding offshore exploration or installing facilities for alternative energy sources like win and wave power.
Indeed, these figures carry with them the clout necessary to open doors and gain the attention of policymakers, especially during these rocky economic times.