Chinese research icebreaker Xue Long
Establishing a Chinese presence in the polar regions.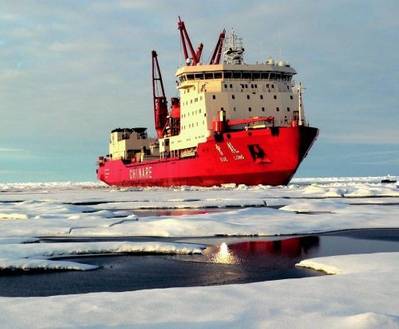 The Xue Long (Snow Dragon) is the premier polar vessel of the People's Republic of China.  It was built in the Ukraine in 1993 and modified upon its acquisition by China in 1994.  Its major function is to serve as a resupply vessel and scientific research platform in the Antarctic and the Arctic.  The Xue Long is rated as a class A2 icebreaker, capable of moving through ice nearly four feet in thickness at a speed of two knots.  Thus, it is only slightly less capable as an icebreaker than the USCG medium polar icebreaker Healy (WAGB-20).  The Xue Long underwent a major overhaul in 2007, being fitted with a new bridge and accommodation block and an upgraded and expanded scientific suite.  It has made four voyages to the Arctic (1999, 2003, 2008, and 2010) and numerous voyages for the Chinese Antarctic Program (CHINARE) to resupply the Chinese scientific facilities in the Antarctic (the Great Wall Station on King George Island; the Zhongshan Station on the coast of East Antarctica; and Dome Argus in East Antarctica).  The icebreaker returned to China in April 2012 from its latest mission to the Antarctic and is due to depart in June for a four-month voyage to the Arctic for a planned trip through the Bering Strait and across the Arctic Ocean to the Atlantic.  During this voyage, the icebreaker will probably call at the Arctic Yellow River Station in Ny-Ålesund, Svalbard.  The Xue Long has a full load displacement of 21,025 tons, a length of 167 meters, a beam of 22.6 meters, and a draught of nine meters.  It carries a crew of 34 and can accommodate up to 128 scientific personnel and/or passengers.  It normally carries one helicopter, an arctic research boat, and an autonomous underwater vehicle (AUV).  During its 2008 Arctic voyage, the Xue Long reached its northern-most point, 88.22°N at 177.20°W.  From there, the helicopter flew scientists to the North Pole for some research work.  A second polar icebreaker is currently under construction in China.