Aves Island
Is it a rock or an island? Ownership is in dispute.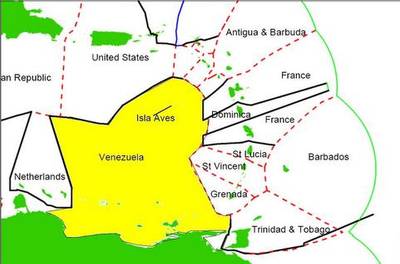 Aves Island or Isla de Aves is located in the Caribbean Sea west of the Lesser Antilles (115 miles southwest of Montserrat, 140 miles west of Dominica, and 340 miles north of Venezuela).
It provides a nesting place for sea turtles and birds – many birds.
It is very small, about 1500 feet long and only 500 feet wide at its widest point.
It highest elevation is about twelve feet above sea level, but it is sometimes totally submerged when a hurricane passes close aboard.
Hurricane Allen in 1980 split the island into two islets, but coral and sand have since filled the gap.
There is some scrub vegetation, but no trees.
There are fringes of coral reef around most of the island.
Aves Island was discovered by a Spanish navigator in 1584, but has no permanent population.
In addition to Spain, the island has been claimed by the Dutch (based on turtle and bird egg hunting from St. Eustatius and Saba) and by the British (Dominica has since pursued the claim).
The Spanish claim devolved to Venezuela upon independence.
In 1859, the Dutch administrator in St. Eustatius granted a concession to mine guano on Aves Island to a company based in Baltimore.
American guano mining on the island continued intermittently until 1912.
In 1950, Venezuela landed a small military contingent on Aves Island and in 1978 constructed weather and communications facility just off the southwest side of the island.
The facility is built on steel legs driven into the seabed and rises about 30 feet above sea level.
Venezuela claims Aves Island is an island, while other nations assert that, under the United Nations Convention on the Law of the Sea, it is merely a rock.
The difference is significant.
If it is a rock, then the nation with dominion over Aves (Island) is not entitled to claim an exclusive economic zone or continental shelf off its shores.
If, on the other hand, Aves is indeed an island, then the nation with dominion thereover is entitled to all the rights and benefits that accrue from a regular EEZ and continental shelf.
At this point, any such claims are of only theoretical value, but if oil or gas is discovered in the vicinity, the issue could prove volatile.