Achieving Critical MASS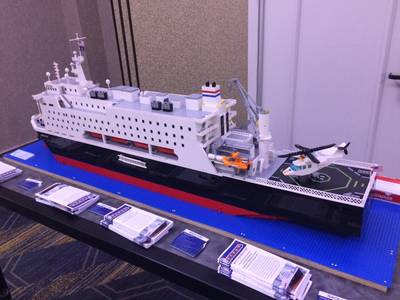 The U.S Maritime Administration sponsors a conference on the U.S. Vessel Automation Industry. It's about time – right on time. Maritime Autonomous Surface Ships - the time is now.
Linthicum, MD: All the usual suspects, along with many new faces, reflecting changes in technology and perhaps the very future of global shipping itself, all found themselves gathered near Baltimore this week for a two-day symposium on maritime autonomy. And, it should have been no surprise that labor – US maritime labor, in particular – was in attendance, and in robust numbers. After all, any and all stakeholders will, in the near future, in some shape, form or way see their business model and/or way of life inexorably altered by the coming of autonomous and/or remote controlled marine vessels.
The overriding theme of day one – but not the only one, I suppose – might have been that no one need be left behind. Sure, change is coming, but only that which can be supported by a robust business model. Moreover, there's still plenty of work to do once you've taken last line with that shiny new autonomous vessel. That work won't look much like it does today and the mariners, longshoremen, and managers of today need to get on board and embrace what comes next. It is quite simple: they can sail with the ship or be left behind at the dock. Nevertheless, all of that is very much a work in progress.
Another key message of the day involved collaboration: there isn't enough of it today and the autonomous vessel of tomorrow – let's face it, it is here today – will require that all parties work seamlessly together. In terms of collaboration, there are many layers to that onion.
Predictably, day ONE speakers saw more than a few Europeans leading the discussions – and appropriately so, since a lot of the progress has emanated on the Continent. That's not to say it hasn't happened here, as well. It has and is. To that end, at least one commercial attendee (an American) expressed frustration with the US regulatory regimes (the Coast Guard for one) for not allowing United States to take more of a leadership role.
Marad Chief Buzby: out in front, leading the charge
The morning kicked off with opening remarks from Mark Buzby, the U.S. Maritime Administration's Maritime Administrator. Buzby and the Marad team brought to Maryland an outstanding line-up of speakers, a packed audience of stakeholders, and all of it in an earnest attempt to bring the U.S. waterfront more fully into the autonomy discussion. It is what Marad should be doing and Buzby is doing it well.
Change, said Buzby, is never easy. And, with a note of caution, he added that trust will be the key. If the risks are deemed too high, then it might not happen or will be a long time in coming. He then invoked the memory and reality of the Nuclear Ship "Savannah" which, more than fifty years ago was (in part) supposed to herald the advent of the nuclear era for commercial shipping. "We all know how that turned out," he said.
Industry Weighs In
Oskar Levander, long time Rolls Royce visionary and now in the Kongsberg fold, led the way. He started by saying, simply, "We've come a long way. It's very exciting."
In terms of so-called 'disruptive' change – the digital piece may well prove easier than the effort to clean up the environmental side of the global shipping equation. But, it hasn't always happened that way. Sail gave way to steam and then to diesel. The legacy method of stuffing cargo ships gave way to containers. None of that happened overnight, but happen; those things did. And when they did, like autonomous control of maritime assets, they were disruptive in their impact. For his part, Levander, who has been in the maritime industry for all his life, remains disappointed that change hasn't happened faster.
Circling back to the bottom line, Levander then touched upon some drivers for R&A (remote / autonomous) shipping. The first – money – was no surprise. It turns out that it's about money and reducing costs. Unmanned operations reduce manning costs, for example. In particular, unmanned ships will perform better and more economically when freight rates are lower, especially for smaller and medium sized vessels. That's Kongsberg's view, in any event. One size doesn't fit all. For example, he says, bigger boxship operators say they're not interested in autonomy right now. Lavendar agrees – he sees the same numbers. But, then, he reminds his listeners, "big boxships comprise only 1% of the global market."
In fact, as much as one-third of global fleet presents some sort of business case for autonomy and/or remote operation. But, in order to really keep the momentum going, vessels and systems / equipment need to be standardized. Levander says that there are too many one-off designs and/or non-integrated systems. "We need to change the industry. Get away from 'prototype' building. But, still we haven't seen in happen."
As autonomy evolves, in the beginning, building costs might be slightly higher, but the resulting OPEX will be likely be much lower. Captain Jorgen Strandberg of Wartsila, for his part, insists that these vessels, "Must be fully unmanned or the business case will crumble." At the same time, he says, mariners won't go away, but the mariner of the future will have radically different tasks.
Autonomy, it turns out, makes real sense when it comes to smaller vessels, where crew cost is everything – as much as 60-70% of OPEX. Bigger boats have a different financial model. And, shorter trips will facilitate more and cleaner electrical propulsion. Small and short – that's where the money and the opportunity is, says Strandberg. He adds, "Technology must be cheaper than the human or it won't work for commercial operations."
The view from technology giant ABB is that Decarbonization (electrification), safety (the human factor) and the digitalization of shipping are all among the key issues to address in the near term. Autonomy will bring value to all of these challenges but one thing holding industry back is the lack of a cohesive delivery from the myriad OEM's that make up all of any vessel's equipment. These include the sharing of interfaces, data, etc. But that hasn't fully happened as yet. And, once again, it all comes back to collaboration.
Traditional roles will be disrupted. The bridge team will be particularly impacted. Interestingly – shortsea shipping is driving much of the interest in autonomy in Norway – and it is about being environmentally friendly. Again – a central theme and indeed (some say) the real reason for autonomy (one of them) is the environment itself.
The Big Picture
Several themes evolved, no matter who was speaking on Day ONE. Drivers for autonomous vessels, and likewise, the impediments to moving that technology forward, were all discussed. Among these, the following bullets seemed to be most important:
· Common Functionality: we need to make sure all ships in future are built with same functionality to support a common method of autonomy and remote control.
· Common and Progressive Regulatory Regime: some flag states are more progressive than others. Rule changes must happen. Full (or even partial) autonomy, without collaboration and buy-in with the regulatory side, will be very difficult to get implemented.
· Safety: Safety remains a critical driver for autonomy – eliminating the dull, dirty and dangerous tasks from marine operations. Automation can help here. It's all about removing risk. It is at the very heart of the argument for autonomy.
· Sustainability: Surprisingly (or not), stakeholders and experts at the conference frequently invoked the 'environment' when they pushed the autonomy concept forward. Autonomous operations, apparently, promote fuel economy and similarly, slow steaming is ideal for autonomy. It certainly wasn't the first reason that came to my mind when it comes to autonomy. Perhaps it will be, in the future.
· Collaboration: The need for collaborative work involving all aspects of the maritime domain was another common theme, frequently mentioned by most presenters. The stakeholders in this equation include the regulatory regime, OEM's, maritime operators, software / technology developers, labor, the training sectors – the list is endless. Buy-in (and cooperation) from all will be necessary for a satisfactory end game when it comes to autonomy on the water.
Final Thoughts
I arrived in Maryland yesterday already knowing that autonomous vessels operations are not an abstract concept. Autonomy is here. Firms like L3 (ASV) have delivered hundreds of systems on the water already. And, given the presentations by numerous technology providers on Monday, it is clear that many more are coming. And soon.
On the other hand, I left the room on day one wondering whether the oft-repeated reference to the environment was now being used as a pry to get (skeptical) people (and perhaps labor) on board as IMO 2020 approaches. Or, was it a truly primary driver? The experts made a good case for it – in some cases on a level equal to and/or surpassing the usual 'dull, dirty and dangerous' argument. Fair enough.
I go to a lot industry functions. This one – arranged for and organized by the U.S. Maritime Administration – was as good as any other I've been to in recent memory. Input from wide range of relevant stakeholders and, at the same time, an engaged and informed audience made for an interesting day. Day TWO promises to be just as compelling. Bravo Zulu, Marad. – MLPro.
* * *
Joseph Keefe is a 1980 (Deck) graduate of the Massachusetts Maritime Academy and lead commentator of MaritimeProfessional.com. Additionally, he is Editor of both Maritime Logistics Professional and MarineNews magazines. He can be reached at [email protected] or at [email protected] MaritimeProfessional.com is the largest business networking site devoted to the marine industry. Each day thousands of industry professionals around the world log on to network, connect, and communicate.