A Book Review
Marine Fire Prevention, Firefighting, and Fire Safety by Captain Sean Tortora, USMS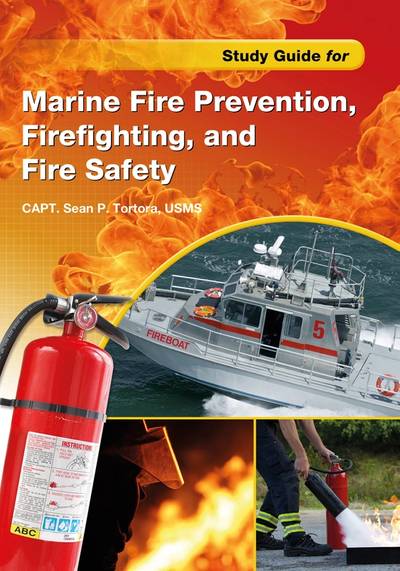 Firefighting probably will never be a (hot) topic for discussion at the breakfast table, during leisure time or possibly any other venue. On the other hand, I can think of few things more important to a merchant mariner – or any seafarer, for that matter. That said; (Captain) Sean Tortora's comprehensive text entitled Marine Fire Prevention, Firefighting, and Safety, published just this past year, is a worthy and compelling "read." Comprehensive in its coverage, concise in its delivery, the 176-page manual is simply the most complete and readable firefighting guide that I have ever come across.
Tortora is a Master Mariner with twenty-five years experience at sea and also has earned an unlimited Master of towing vessels and Master of underway replenishment vessels. During his career at sea, Capt. Tortora had command of many different classes of vessels, including tankers, dry cargo, break bulk, ammunition, ocean towing and salvage, special mission, as well as underway replenishment vessels. Capt. Tortora has had extensive experience combating serious shipboard fires, including major engine room fires and cargo hold fires. The SUNY Maritime graduate holds a BS in Marine Transportation and MS in International Transportation Management. Today, he is a professor in the Department of Marine Transportation at the United States Merchant Marine Academy at Kings Point, New York.
Fighting a fire or addressing an emergency aboard ship should be an organized and standardized event. Nevertheless, how that evolution occurs on board a U.S. Navy Ship and a merchant vessel will vary, sometimes simply as a function of the number of people (or paucity thereof). I can remember attending firefighting school in the early 1980's in Freehold, NJ, along with an entire section from a U.S. Navy ship. And, I've done it within the last five years, in accordance with STCW requirements as part of a Basic Safety Training (BST) course in a commercial setting. The two events could not have been more different.
And then, there is the U.S. Military Sealift Command structure, where civilian mariners – typically in much larger concentrations than that which a standard commercial vessel would allow – work on board and alongside U.S. Navy personnel. The mix in styles is, at a minimum, an interesting thing to observe – a hybrid approach to things that you don't often see in the commercial world. Tortora has seen and done it all and he understands how it all comes together. Lesson 1, dedicated to Shipboard Organization, ties it all together.
I admit to having a bit of a soft spot for Tortora since much of his sea time was spent on Military Sealift Command tonnage and a good portion of that on underway replenishment vessels. That's where I started and because of it, I vividly remember the fire and emergency drills aboard my MSC vessel(s). And, that's what I like most about Tortora's Study Guide: he has experienced and understands the differences inherent in the approach to firefighting on board both government and commercial vessels. He also understands that the basic concepts of the task don't necessarily change, no matter what kind of vessel you sail on or who you work for.
Tortora's guide was prepared for use with U.S. Coast guard-approved Marine Fire Fighting and Safety courses and meets the requirements of the IMO's Standards of Training, Watchkeeping (STCW 1978), as amended. Beyond this, the text was produced so as to modernize, streamline, and simplify the original text, Marine Fire Prevention, Firefighting and fire Safety, published by the U.S. Department of Transportation's Maritime Administration, in 1972. Today, the U.S. Government Printing Office no longer prints the document. Never fear: Captain Tortora happily stepped into the breach.
In the end, the guide updates readers on the equipment and techniques that have since been developed in the last forty years. That's no small task, but Tortora breaks it down into 12 easy to follow lessons which include learning objectives, key points of emphasis and in a manner that that minimizes the busy work while maximizing the course content. Professional mariners and educators alike, if contemplating just one professional reading purchase this year, should put Tortora's Marine Fire Prevention, Firefighting, and Safety at the top of their list. – MarPro.
Note: Published by Schiffer Publishing, Ltd. / ISBN: 978-0-87033-635-5
* * *
Joseph Keefe is the lead commentator of MaritimeProfessional.com. Additionally, he is Editor of both Maritime Professional and MarineNews print magazines. He can be reached at [email protected] or at [email protected] MaritimeProfessional.com is the largest business networking site devoted to the marine industry. Each day thousands of industry professionals around the world log on to network, connect, and communicate.